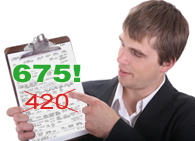 Occasionally, information gets reported
inaccurately onto your credit report. This can truly affect your credit score, making future purchases and loans difficult to obtain.

The helpful credit repair agents at Coastal Credit Clinic work with everyone who needs help with negative items on their credit report. We specialize in working with all 3 credit reporting agencies to offer credit repair to homeowners, married couples, individuals, military personnel, and business owners.
Our goal is to attempt to improve your overall credit score.

We will work efficiently towards helping you repair your credit. It is true that you can do this yourself but who has the time, patience and resources to aggressively work with all three credit-reporting agencies? Just as many people choose to go to a tax professional to have their taxes done to ensure they receive the maximum refund available, the same can be said about our credit repair company.
Getting started is easy!
Simply download and complete our application or call one of our representatives at Coastal Credit Clinic at 1-888-796-2718! We will be more than happy to answer any questions you may have!

Find out how to get a 5% discount on our services!